Are you looking for something natural to get your baby's eczema under control? There are ample amount of home remedies including
coconut oil
, sesame oil, chamomile oil, apple cider vinegar and many more to help you.
Acidic barrier helps to protect a healthy skin and if you have eczema, your skin's pH level is elevated. Due to this improper functioning, the moisture escapes and allergens are allowed into the skin. Apple cider vinegar is acidic in nature, so applying dilute form can help restore the skin's natural pH balance thus, offering a clear skin.
Apple cider vinegar is a trending home remedy to treat various skin conditions as it includes multiple health benefits. Setting up a daily skincare routine that basically includes bathing, moisturizing and drying can help you manage symptoms of infant eczema. And also few question in your mind:
How does apple cider vinegar help eczema?
Does ACV work for eczema?
Is apple cider vinegar good for dry skin?
Is apple cider vinegar good for diaper rash?
Symptoms Of Infantile Eczema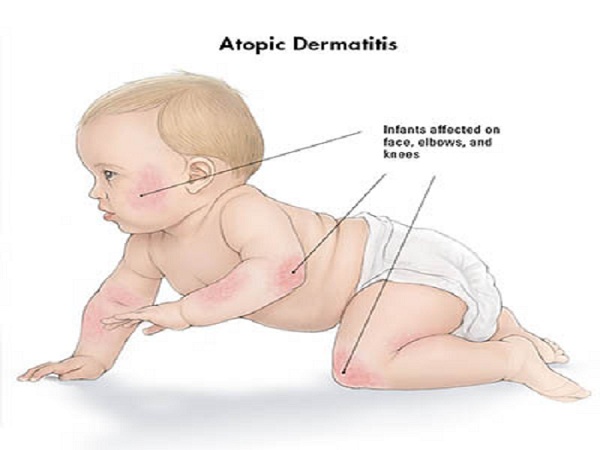 The most common symptoms include:
Redness in the affected area
Small blisters
Tiny pimples on the affected area
Cracking of the skin
Peeling of the skin
Main Causes Of Infantile Eczema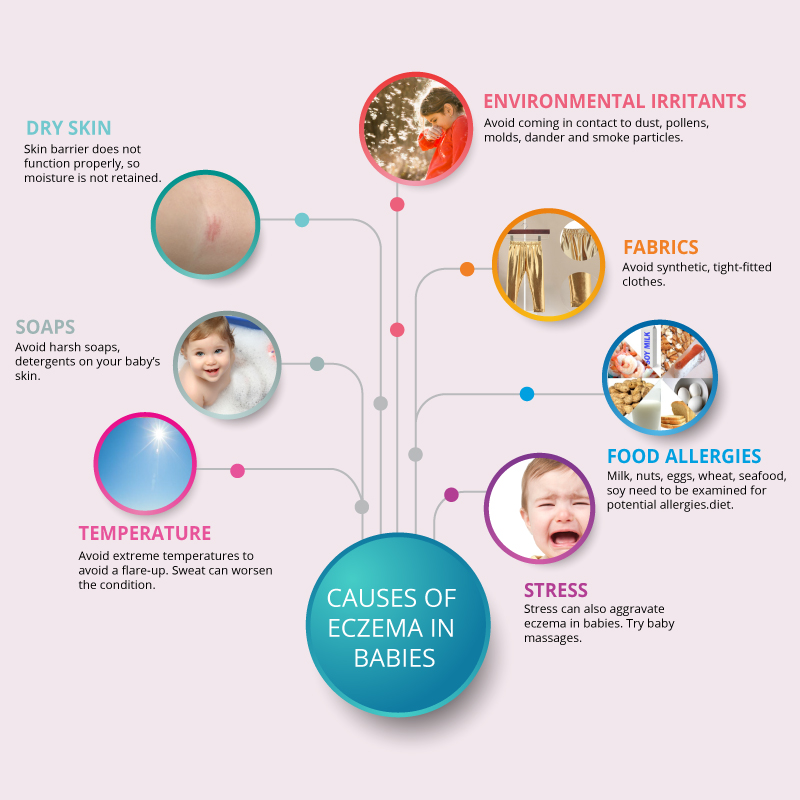 There may be cases of babies having hypersensitive skin that is mostly triggered by:
Inhalant triggers: This generally includes asthma, dust mites, mold, pet fur and pollen.
Food Triggers: It includes wheat foods, pulses, eggs, nuts, dairy (cow milk), seafood, soy products, honey, caffeine, chocolate, citrus fruits, and processed foods which contain preservatives and colorings.
Skin Triggers: Can be caused by lotions, synthetic fibers, perfumes in laundry detergents and soaps, sun exposure.
Keep reading to learn more about Apple Cider Vinegar that acts as a natural treatment for eczema.
Apple Cider Vinegar Baths For Infants
Apple Cider Vinegar baths are well known for reducing eczema itch and skin inflammation. ACV possess antibacterial, anti-fungal properties and contains all kinds of immune-boosting mineral salts, vitamin B1, riboflavin, an array of vitamins, sulphur, and acetic acid. It's helpful in maintaining the pH of the skin. Vinegar is wonderful to relieve skin inflammation, skin infections, and to combat yeast growth.
What is Apple Cider Vinegar?
What's it made from: It's natural as apple juice with the few amounts of yeast. The yeast transforms the fruit sugar into an alcohol by the process called fermentation. Then bacteria turns the alcohol into acetic acid.
What makes it effective: It's a natural source of Vitamins B, C and possess antibacterial properties. The acidic nature of ACV will naturally help balance your body's pH levels. Soaking yourselves in apple cider vinegar will nourish and moisturize the skin.
Apple Cider Vinegar Baths For Babies With Eczema
Fill the tub with a lukewarm water, add 1-2 cups of apple cider vinegar.
NOTE: Use the warmest water tolerable; warm water opens skin pores. Please ensure to maintain the same ratio of water to vinegar if it's for your baby; less water = less vinegar.
Soak your baby for approx. 15 minutes minimum, and as long as 30 minutes.
Rinse baby's skin with a clean, cool water to close the pores.
Pat dry skin with a towel.
Apply your medically recommended skin cream or medication to the skin.
Seal in all the goodness with a soft fabric.
Long Term Side Effects Of Infantile Eczema
Infant eczema, when left untreated, can surely lead to drastic consequences. Some of the side effects that arise when eczema is left untreated for quite a long period are as follows
Rashes become worse
Skin peels off immensely
High fever
Stress
Irritation
Pus oozes out
Tips For Preventing Infant Eczema
Dress your baby in soft, cotton clothing
Use a gentle, unscented laundry detergent
Avoid bubble bath and use mild soap for sensitive skin
Use a gentle lotion or lubricating agent to lock in moisture immediately after bath time
Also Read:
Please rush for your doctor's help immediately to save your younger one from the further ill effects. Before the condition becomes complicated try to treat it with the help of natural remedies and instant medical prescriptions.