Apple Cider Vinegar is the latest trend in a natural treatment of eczema symptoms and infections. It's antimicrobial and antibacterial properties prevent flare-ups, as well as calm the inflammation of the skin. Not only does it provide support to fight infections, it also helps balance the PH level of the skin to keep bacteria away. Some find that consuming ACV is beneficial for gut health and many other diseases. However, for eczema, taking baths in ACV has its own benefits, which is also backed up by scientific studies.
Apple Cider Vinegar benefits to relieve eczema symptoms
Apple Cider Vinegar is beneficial to relieve symptoms of eczema in the following ways:
Apple Cider Vinegar have beta-carotene that facilitates the skin renewal process and helps to rejuvenate the skin naturally.
Apple Cider Vinegar helps to boost your immune system that heals your skin with eczema flare-ups. Possess many essential vitamins and minerals that include pectin, potassium, sodium, iron, calcium, magnesium and sulphur that can cure eczema.
Apple Cider Vinegar acts as a natural astringent that helps in balancing pH levels of the skin easing the allergic effects.
ACV can alkalize the body thus slowing the yeast growth that can cause eczema and dandruff.
ACV acts as a natural detoxifying agent that cleanse your body and results in clear, healthy glowing skin.
Apple Cider Vinegar possesses fiber that prevents constipation and accumulation of toxins leading to skin problems like eczema, acne and more.
4 Easy Way Use to Apple Cider Vinegar for Eczema
1. Apple Cider Vinegar Baths for Eczema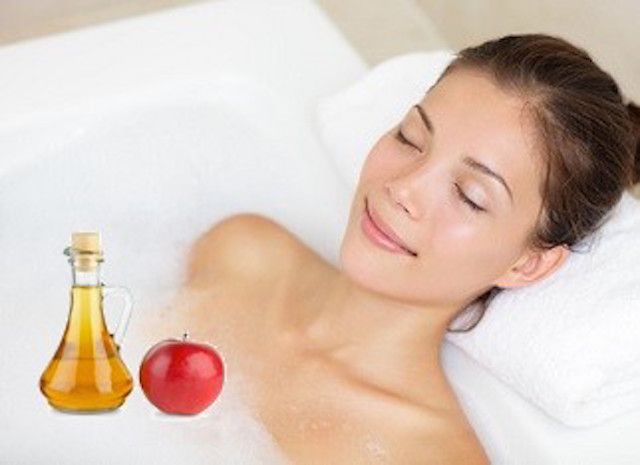 Add two cups of ACV to a full tub of a bath. Make sure the water is warm or lukewarm.
Mix thoroughly and bathe in water for about twenty minutes to half an hour.
Rinse thoroughly with plain water, pat dry, and apply moisturizer right away.
Also Read – Eczema and Bathing – Tips to Take Bath With Eczema
2. Taking Apple Cider Vinegar Orally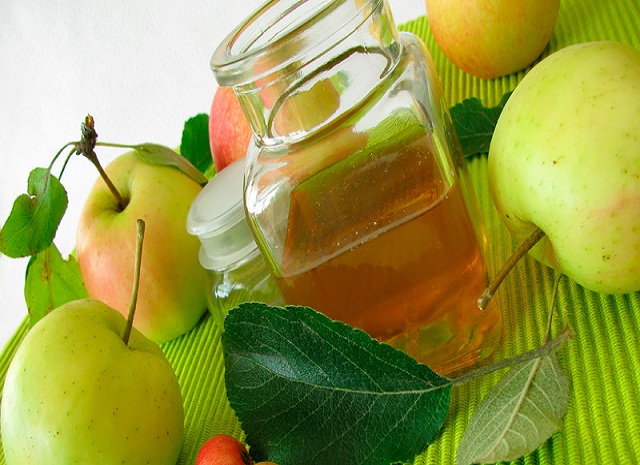 Eczema or Atopic Dermatitis can be treated internally if you take ACV orally. This can strengthen your body's immune system and can prevent the reoccurrence of eczema.
Take one cup of water and add 1-2 tbsp of Apple Cider Vinegar
Mix it well and drink
Follow the same regime twice on a daily basis to see the effective results.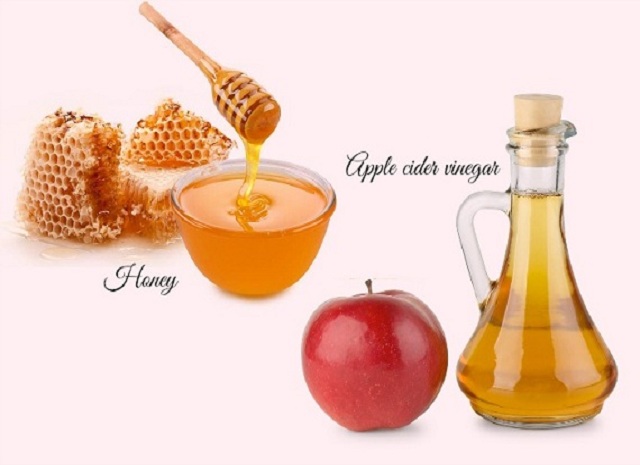 The combination of honey and ACV can do wonders in treating eczema. Honey possess antibacterial properties and has been used to treat many skin diseases from ages.
Take a glass of water
Add one tbsp of honey and two tbsp of ACV
Mix it well and drink the mixture
Follow the same at least thrice a day with the meals till you get the desired results.
4. Baking Soda and Apple Cider Vinegar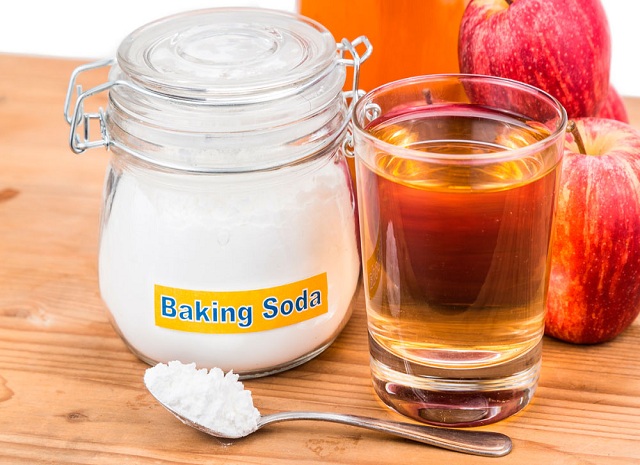 Baking Soda acts as a cleanser that helps to clear your skin. The mixture of Apple Cider Vinegar and Baking soda can raise the pH level up to 7-7.5 and this can prevent the growth of bacteria that causes this severe skin condition called eczema.
Take half cup of water
Add one-fourth tbsp of baking soda and two tbsp of Apple Cider Vinegar
Mix it well and drink the mixture
If needed, you can add one tbsp of honey to enhance its taste
Some Additional Tips:
Ensure to use diluted Apple Cider Vinegar for both oral intake and external usage as it may create burning sensation
Always do a patch test before moving forward with Apple Cider remedies as some people are allergic to ACV
If you are on medication and diabetic, please avoid oral intake of Apple Cider Vinegar
Breastfeeding mothers and pregnant women should avoid taking Apple Cider Vinegar as it may prove harmful for the babies
Sweating can irritate your skin so take strict measures to stop sweating
Avoid Scratching the eczema affected skin to prevent it from infection and flare-ups
Avoid intake of peanuts, wheat, soy, eggs, fish, milk and other allergenic foods to refrain yourselves from eczema flare ups
Keep your skin hydrated and moisturize it within accurate time intervals
Avoid stress as it can worsen this chronic skin disorder called as eczema
Avoid the usage of fragrances, harsh soaps and detergents to prevent skin damage and skin irritation
Eat a balanced diet
Have a good amount of sleep to keep yourself fit and healthy
Indulge yourselves in light physical activities
Wear loose clothes that may not irritate your skin
Use soft fabrics and avoid synthetics
Eat fresh fruits and vegetables
White Vinegar acts as a natural fabric softener so add half cup of white vinegar to the wash cycle but avoid mixing bleach and vinegar as that produces toxic fumes
Always consult your dermatologist before consuming vinegar
Now, you are aware of the usage of Apple Cider Vinegar and how it can do wonders to treat your skin ailment. Suffering from this chronic skin disorder eczema, then go grab a bottle of  Apple Cider Vinegar and start using it to get effective results. Use these effective home remedies to treat eczema or atopic dermatitis.