To use aloe vera for eczema, first help your skin absorb as much as possible by cleaning the area first with mild soap and water. Liberally apply aloe vera gel to the affected area. Keep in mind that the gel can be sticky at first.
Are you tired trying to get rid of the irritation due to eczema?
If so, please keep reading!
Eczema makes the lives of millions of people miserable every single day. Most of you might have suffered from Eczema since early childhood. [1]
Eczema occurs due to the overly dry skin. The skin appears to be scaly and crusty and very itchy. The worst part is the tiny red bumps that cause scarring when scratched.
However, don't lose hope! Luckily, there is one incredible way to cure Eczema naturally.
Aloe Vera for Eczema is one of the best ingredients to heal Eczema and even prevent it from coming back. So today I share the 5 proven methods of using Aloe Vera to control eczema forever.
Aloe Vera works for eczema in babies and adults. The amazing part is you can use Aloe Vera for eczema scars and eczema around eyes too!
☘️ How does Aloe Vera Help Treat Eczema?

It is unfortunate to see your loved ones suffer from Eczema.
Statistics show that people who suffer from eczema in their childhood are likely to suffer from it their entire lives. [2]
Trying Aloe Vera for eczema in babies saves you from the side effects and expense of prescribed medicines for Eczema.
So you must be wondering how Aloe Vera helps with Eczema.
Aloe Vera consists of 75 elements that each give unique health benefits. [3]
These are some of the ways Aloe Vera helps with Eczema:
Calming effect: Aloe Vera gel has a cooling and soothing texture. When you apply it to the skin, you can instantly feel the itching sensation go away. This further stops scratching that makes eczema worse.
Hydration: Since dry skin is a primary reason for Eczema, you need to keep your skin moisturized to stop it. Aloe Vera provides hydration to the skin that is necessary to keep Eczema at bay. [4]
Antiseptic properties: Eczema is often made worse due to skin infections or bacteria. The antiseptic properties of Aloe Vera kill those bacteria before it causes further damage.
☘️ Aloe Vera for Eczema: 5 Proven Methods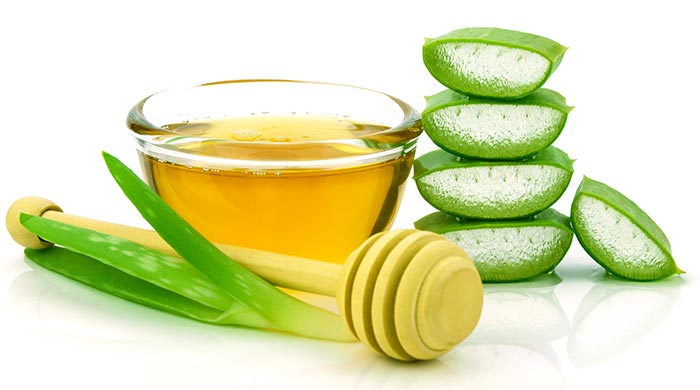 So how to apply Aloe Vera for Eczema?
There are many simple ways in which you can apply Aloe Vera to treat Eczema. The following list contains 5 of the best ideas which work best to get rid of Eczema.
✅1. Aloe Vera Juice
Drinking Aloe Vera juice has to be one of the most accessible methods on the list. And it doesn't have to taste bad!
The best part is Aloe Vera juice promotes not only relief from Eczema but overall good skin. It is used for weight loss too. [5]
Directions:
Take a warm glass of water.
Add3 tablespoons of Aloe Vera Gel to the water.
Drink once every day for best results.
In case you don't want to consume Aloe Vera juice, the gel works perfectly too. Aloe Vera gel provides the hydration and antiseptic properties that are ideal for treating Eczema in babies. [6]
Directions:
Take half a cup of Aloe Vera gel.
Apply to eczema-affected regions and places that itch.
Allow it to dry for about 20 minutes.
Rinse off with water.
Apply the gel thrice a day.
✅3. pH Balancing Aloe Vera Balm

Sometimes when your skin pH value is not neutral, eczema can get worse. Eczema can be triggered by hormonal imbalance as well that causes pH levels to fluctuate. [7]
Since retaining moisture is crucial to treat Eczema the balm also helps with that aspect. [8]
Every ingredient in this balm helps with fighting Eczema and can be stored.
Directions:

Take 2 ounces of fresh Aloe Vera gel.
Add two drops of tea tree oil.
Add a drop of Geranium oil.
Add a teaspoon of apple cider vinegar.
Shake the mixture well in a bottle and apply.
✅4. Aloe Vera with Essential Oils

Some essential oils prove to be great treatments for Eczema. So mixing Aloe Vera and these Essential Oils create a powerful combination to fight the disease. [9]
It is best to use a carrier oil with essential oils. But if you are using mild oil, you may avoid it.
Directions:

Take half a cup of melted cocoa butter
Add a cup of jojoba oil or olive oil
Add a cup of essential oil such as coconut oil/ orange oil/ tea tree oil. [10]
Mix with a cup of sea salt
Store for some hours till the butter hardens
Apply to the affected area
✅5. Aloe Vera and Turmeric Powder

Turmeric Powder is nature's gold when it comes to health benefits. It's uses are are popular in Ayurvedic and herbal treatment for decades. [11]
The mixture of Aloe Vera gel with Turmeric powder creates a strong balm. There is both the soothing effect of aloe and the spicy element of turmeric.
Directions:

Take one-fourth teaspoon of turmeric powder
Mix one tablespoon of Aloe Vera gel.
Apply directly to your skin.
Wash off after 15 minutes.

Infographic Sources:  Naturally Daily
☘️ Endnote

How often have you imagined a life without Eczema?
Now you can achieve it with a simple ingredient such as Aloe Vera gel.
All the 5 application methods of Aloe Vera for Eczema are known to work for a lot of patients. They will work for you too!
So go ahead and try at least one of these steps to see the results.
Always remember, "Nourishing your body helps nourish your soul." You owe yourself a healthy life.
If you find this post helpful, share it with others to let them get the same benefits!
If you enjoyed reading this article, you might also like: